Cherry Tini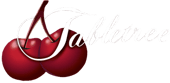 Elegance with ease is what you get with this Martini!
Ingredients:
3 oz Cherry Vodka
.5 oz Tabletree Cherry Juice
.25 oz Simple Syrup
Glass: Martini
Garnish: Cherry
Instructions:
Build all ingredients in an iced shaker. Shake for 30 seconds. Double-strain into Martini glass. Drop in a single cherry; enjoy!
Order Cherry Juice
Need more juice for your recipes or just want to stock up? Go for it, click below to place an order.