Tabletree
Recipes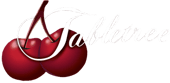 Cooking with Cherry Juice
Enjoy a selection of our favorite recipes and SIGN UP to join our recipe club.
Tabletree Cherry Cranberry Sauce
Tabletree cherry juice balances the tartness of the cranberry in this recipe to give you a simple sauce that goes very well with rich meats like goose, duck, and of course turkey. You can make it well in advance. Process some in sterilized jars as a lovely homemade gift that's sure to impress.
Ingredients:
6 cups fresh cranberries or frozen ones, thawed
2 - 8.5 oz bottles Tabletree Cherry Juice
2 cups sugar (add sugar to taste if you like it sweeter)
Instructions:
Place all the ingredients in a wide saucepan. Put the pan on medium heat and bring to a boil (about 10 minutes). Simmer gently until the cranberries have burst, stirring on occasion. Boil down until the mixture thickens slightly then take off the heat and leave to cool. The sauce will thicken further as it cools.
Divide between air-tight, sterilized jars and give away to all your friends. Can be placed in freezer containers and frozen for future use. Once opened, store in the fridge.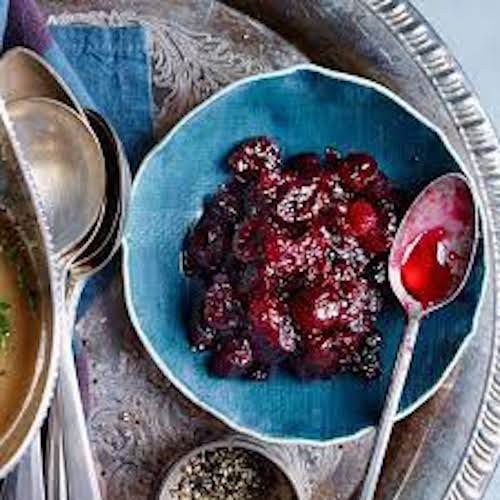 Tabletree Cherry Soup with Lemon Sorbet
Ingredients:
2 - 8.5 oz bottles Tabletree Black Cherry Juice
1 tablespoon light brown sugar
1/4 cup plus 2 tablespoons sour cream
1 tablespoon fresh lemon juice
1/8 teaspoon pure almond extract (optional)
4 rounded tablespoons lemon sorbet
4 mint sprigs, for garnish
Instructions:
In a medium saucepan, bring the cherry juice and brown sugar to a boil. Reduce the heat to low and simmer for 10 minutes. Let cool for 15 minutes. Cover the soup and refrigerate until cold, at least 2 hours or overnight.
Add the sour cream, lemon juice, and almond extract to the cherry soup and whisk until smooth. Ladle the soup into bowls and top with the lemon sorbet. Garnish each bowl with a mint sprig and serve immediately.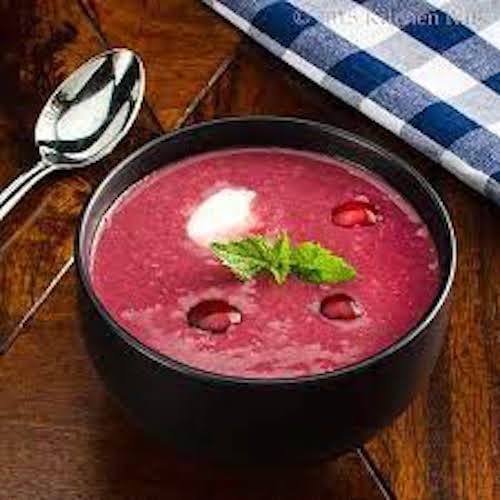 Tabletree Chicken Cherryaki Stir-Fry
Ingredients:
2 tbsp corn oil
1 garlic clove, minced
2 tsp minced gingeroot
1 lb boneless chicken breasts, cut in strips
3 carrots sliced
1 cup cauliflower
1 small onion sliced
3 cups broccoli florets
1/2 red pepper, cut in strips
1/4 cup Tabletree Cherry Juice
1 tbsp soy sauce
1 tbsp corn starch
1/4 cup chicken stock
Slivered toasted almonds to garnish
Instructions:
In a wok or large skillet, heat oil over high heat. Stir-fry garlic and ginger until fragrant. Add chicken and stir-fry for 2 to 3 minutes. Add onion, carrots, cauliflower, broccoli and red pepper; stir-fry 2 minutes. Add chicken stock and Tabletree Black Cherry Juice and stir-fry 3 minutes longer or until vegetables are tender to taste. Combine soy sauce and corn starch, add to wok and cook, stirring until thickened. Serve over cooked noodles or rice. Garnish with slivered toasted almonds.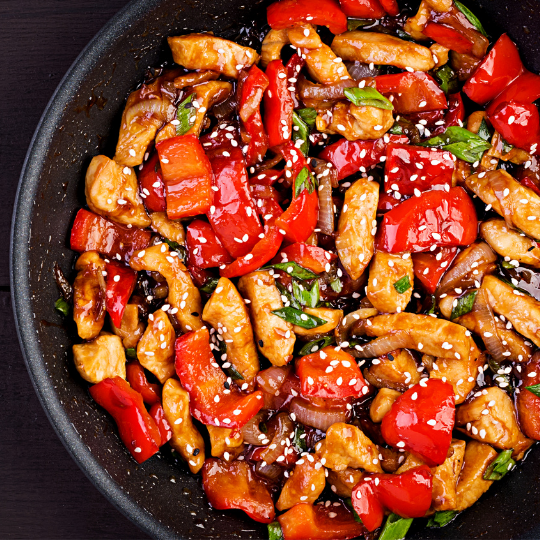 Get More Recipes
There's a lot more where that came from. Subscribe today to join our recipe club and get access to more recipes every month.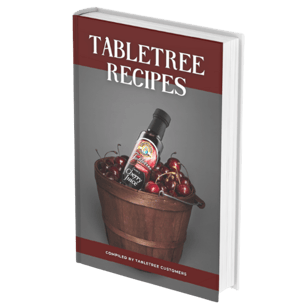 Order Cherry Juice
Need more juice for your recipes or just want to stock up? Go for it, click below to place an order.