Cherry Fruit Cake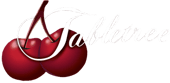 This recipe makes the quantity of a 3-tier wedding cake (perfectly suited for a Canadian wedding cake, which is the traditional flavor dating back to the Middle Ages!).
Ingredients (combine and let stand overnight):
2 cups raisins
1 cup currants
1 cup dates, chopped
1 cup cherries, chopped
2 cups additional chopped fruit (dried prunes, apricots, pears, apples, or more of the above....)
Pour over:
1/2 Cup Tabletree Cherry Juice and brandy. Next day - dredge with 1/2 cup whole wheat flour.


Sift Together:
1 1/2 cups whole wheat flour
1/2 tsp baking soda
1 tsp cloves
1 tsp cinnamon
1 tsp allspice
Creme:
1 cup butter

Beat In:
2 cups honey
6 eggs

In a separate bowl combine:
3/4 cup Tabletree Cherry Reduction
3/4 cup apple juice
Directions:
Add sifted dry ingredients alternately with liquids to the creamed ingredients. Add fruit. Line pans with brown paper. The brown paper takes up some of the grease. Bake at 275° F for 3-3 1/2 hours. Does not require aging.
Order Cherry Juice
Need more juice for your recipes or just want to stock up? Go for it, click below to place an order.