Cherry Slump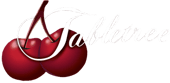 This dessert is also known as a Cherry Grunt, or a "Stovetop Cobbler". It's similar to a pie filling but cooked down on the stove and best served in a bowl. The addition of our Tabletree Cherry Juice makes the final flavor out of this world!
Ingredients:
2 cups flour
1 3/4 cups sugar, plus more for sprinkling
4 1/2 tsp baking powder
1 tsp kosher salt
4 Tbsp unsalted butter, cubed and chilled
1 1/4 cups milk
1 1/2 lb cherries
1 cup Tabletree Cherry Juice
1/4 cup fresh lemon juice
Vanilla Ice Cream, for serving
Instructions:

Preheat oven to 400 °F

Whisk together flour, 1/4 cup sugar, baking powder, and 1/2 tsp salt in a large bowl; add butter, and using your fingers, rub butter into flour until pea-size crumbles form. Add milk, and stir just until a moist dough forms. Cover and refrigerate dough until ready to use.
Bring remaining sugar, salt, cherries, Tabletree Cherry Juice, and lemon juice to a boil in a 12" cast-iron or enamelware skillet over high heat, stirring to dissolve sugar. Remove pan from heat, and using 2 spoons, portion and form chilled dough into 2-3" oval dumplings - drop them evenly on top of the cherry mixture. Sprinkle dough dumplings with sugar, and transfer skillet to the oven; bake until biscuits are cooked through and cherry mixture is reduced, about 25 minutes. Serve hot with vanilla ice cream!
Order Cherry Juice
Need more juice for your recipes or just want to stock up? Go for it, click below to place an order.