Cherry Soup with Lemon Sorbet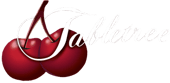 Making the cherry syrup base for this dessert soup the night before a dinner party will make for a quick finish to a uniquely refreshing summer treat.
Ingredients:
1 cup Tabletree Cherry Juice
1 Tbsp light brown sugar
1/4 - 1/2 cup sour cream
3 Tbsp fresh lemon juice (to taste)
1/3 tsp pure almond extract
4 Tbsp lemon sorbet
4 mint sprigs
Instructions:
In a medium saucepan, bring the cherry juice and brown sugar to a boil until sugar has dissolved. Cover the cherry mixture and refrigerate until cold (at least 2 hours or overnight).
Add the sour cream, lemon juice, and almond extract to the cherry mixture - whisk till smooth. Ladle the soup into bowls and top with the lemon sorbet.

Garnish each bowl with a mint sprig and serve immediately.
Order Cherry Juice
Need more juice for your recipes or just want to stock up? Go for it, click below to place an order.