Chewy Cherry-Spice Cookies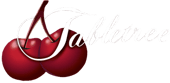 Try sharing these perfectly spiced cookies at a holiday gathering!
Ingredients:
2 cups all-purpose flour (spooned and leveled)
1 1/2 tsp baking soda
1 tsp ground cinnamon
1/2 tsp ground nutmeg
1/2 tsp salt
1 1/2 cups sugar
3/4 cup (1 1/2 sticks) unsalted butter, softened
1 large egg
1/4 cup Tabletree Cherry Reduction


Instructions:
Preheat oven to 350° F

In a medium bowl, whisk together flour, baking soda, cinnamon, nutmeg, and salt. In a shallow bowl, place 1/2 cup sugar; set aside.
With an electric mixer, beat butter and remaining cup of sugar until combined. Beat in egg and Tabletree Cherry Reduction until combined. Reduce speed to low; gradually mix in dry ingredients, just until a dough forms.

Pinch off and roll dough into balls, each equal to 1 tablespoon. Roll balls in reserved sugar to coat.

Arrange balls on baking sheets, about 3" apart. Bake, one sheet at a time until edges of cookies are just firm, 10-15 minutes (cookies can be baked two sheets at a time, but they will not crackle uniformly). Cool 1 minute on baking sheets; transfer to racks to cool completely.

Makes 36 cookies.
Order Cherry Juice
Need more juice for your recipes or just want to stock up? Go for it, click below to place an order.