Tabletree Balsamic Roasted Cherry, Dark Chocolate & Brie Sandwich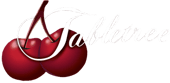 Impress your friends at lunchtime with this rich, up-scaled version of a grilled cheese sandwich.
Ingredients:
1/2 cup cherries, pitted and halved
1 tsp balsamic vinegar (or brandy or port)
2 Tbsp Tabletree Cherry Reduction
1 Tbsp butter
2 slices bread
1 1/2 oz brie, room temperature
1 oz dark chocolate, chopped, room temperature
Instructions:
Preheat oven to 450° F.

Toss the cherries in the balsamic vinegar and Tabletree Cherry Reduction. Place them on a baking sheet in a single layer and roast for 15-20 minutes.

Heat a pan over medium heat.

Butter one side of each slice of bread; place one slice in the pan with buttered side down and top with half of the brie, the chocolate, cherries, remaining cheese, then the other slice of bread with the buttered side up.

Grill until golden brown and the cheese and chocolate have melted (2-4 minutes per side).
Order Cherry Juice
Need more juice for your recipes or just want to stock up? Go for it, click below to place an order.