Tabletree Cherry Chicken Breasts with Goat Cheese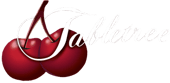 This simple yet decadent dish turns ordinary chicken into something fabulous! The combination of the sweet cherry sauce, herbs, and goat cheese adds first-class flavor to any poultry based entree. Try this recipe with duck or turkey, too!
Ingredients:
3 chicken breasts
2 Tbsp mixed herbs, chopped: thyme, basil, dill, rosemary, chives
1 tsp steak spices
Oil and clarified butter for baking
Sauce:
2 shallots
1 1/2 cup jelly (your favorite)
2 Tbsp balsamic vinegar
3/4 cup Tabletree Cherry Juice
1/2 cup dried cherries
1/2 cup chicken stock
6 slices of goat cheese
Instructions:
Mix the herbs and the steak spices and coat the chicken breasts with this mixture.

Make incisions in them and fry quickly for two minutes on each side. Bake in the oven at 350° F for 20 minutes. Keep warm and let stand.

Put the pan back on the heat, and skim the fat off if necessary. Add the shallots and the jelly; caramelize.

Deglaze the balsamic vinegar and add the Tabletree Cherry Juice. Add the dried cherries and reduce to one third or until smooth.


Serving:
Slice the chicken breasts thinly and arrange in a fan shape on the plate. Spoon over the sauce and put the goat cheese on the chicken. Serve with vegetables and potatoes of your choice. Decorate with sprigs of herbs and dried cherries.
Order Cherry Juice
Need more juice for your recipes or just want to stock up? Go for it, click below to place an order.