Tabletree Cherry Honey Salmon with Cherry Salsa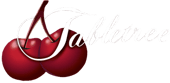 For a slightly richer flavor, try using 1/2 cup of Tabletree Cherry Reduction in place of the Tabletree Cherry Juice and honey.
Salsa:
1 cup cherries, chopped (thawed if frozen)
1 small red onion, diced (1/2 cup)
1 jalapeno, chopped
1 Tbsp honey
1 clove garlic, minced
1 tsp ginger, grated
Salt and Pepper


Salmon:
1 lb. Salmon fillet, cut into 4 pieces
1/4 cup Tabletree Cherry Juice
1/4 cup honey
Instructions:
In a medium bowl, stir together the ingredients for the salsa until well combined. Cover and chill until ready to serve.

Preheat oven to 350°F. Line a baking sheet with nonstick aluminum foil. Rinse the salmon fillets under cool water and pat dry with a paper towel. Arrange on the baking sheet.

In a small bowl, whisk together the cherry juice and honey. Spread half of the mixture over the salmon fillets, reserving the second half.

Slide the baking sheet into the oven and bake for 15-17 minutes until just about cooked through. Drizzle the second half of the cherr-honey mixture over the fillets and bake for an additional 2-3 minutes until slightly golden at the edges. Serve the salmon fillets on a bed of greens topped with the salsa.
Order Cherry Juice
Need more juice for your recipes or just want to stock up? Go for it, click below to place an order.