Tabletree Cherry, Pear, Bacon & Brie Sandwich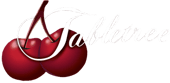 A little bit of sweet, a hint of salt, and the perfect amount of cheese..... here is another one of our favorite gourmet cheese sandwiches.
Ingredients:
2 slices brioche bread
1 Tbsp butter
1/2 large yellow onion, thinly sliced
2 Tbsp Tabletree Cherry Juice
1/2 Tbsp rosemary, chopped
1/2 pear, ripened and thinly sliced
4 large sliced brie
2 slices bacon, cooked until crisp
Instructions:
Heat a large skillet over medium-low heat. Melt butter and add onions, rosemary, and Tabletree Cherry Juice. Cook, stirring only a few times until caramelized (about 10 minutes).

Butter one side of each piece of bread. Starting with one piece of bread buttered side down, layer in the following order: half of the cheese, half of the caramelized onions, pear slices, remaining cheese, bacon, remaining onions. Finally, top with remaining slice of bread, placing it buttered side up.

Place the sandwich in a large skillet over medium-high heat, pressing down firmly with a spatula or sandwich press to help brown the bread and melt the cheese. Cook on each side for approximately 3 minutes. Cut in half and serve warm.
Order Cherry Juice
Need more juice for your recipes or just want to stock up? Go for it, click below to place an order.