Cherry Pinwheels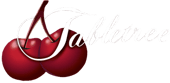 A nice variation to this quick and easy recipe is to add thin slices of ham on top of the spread before rolling.
Ingredients:
1 (170 g) package dried cherries
1 (250 g) container cream cheese spread
1/8 cup Tabletree Cherry Reduction -or- Tabletree Cherry Juice
1 cup crumbled feta cheese
1/4 cup chopped green onion
4 large flour tortillas
Instructions:
Mix the Tabletree Cherry Reduction or Tabletree Cherry Juice together with the cream cheese.

Combine the cream cheese mixture with all other ingredients. Mix well. Divide and spread mixture evenly among tortillas. Roll up tightly, wrap in plastic, and refrigerate at least one hour.

To serve Cut into 12 slices.
Order Cherry Juice
Need more juice for your recipes or just want to stock up? Go for it, click below to place an order.