Smoked Rack of Pork with Cherry Sauce for BBQ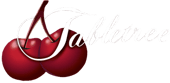 This slowly smoked pork topped with our delicious Tabletree Cherry Barbeque Sauce makes for a perfect meal from the grill!
Ingredients:
6 lb Pork loin roast, bone-in
2 Tbsp fresh rosemary, chopped
1 tsp garlic, chopped
zest of 2 lemons
Pepper and salt
1/4 cup olive oil
3 cups dry cherry wood chips
6 cups cherry wood chips, soaked 1 hour in water


Cherry Sauce:
1 cup Tabletree Cherry Juice
1 cup red wine
1/2 red onion, finely diced
2 sprigs fresh thyme
1 Tbsp ginger, minced
1 Tbsp balsamic vinegar
Salt and Pepper
Instructions:
Place pork on a baking tray. Coat the meat with chopped rosemary, garlic, lemon zest, salt and pepper. Drizzle with olive oil.

Prepare barbeque for indirect smoking. Remove the grate from one burner to the far side of the grill and turn this burner on. Leave 2 of the remaining burners off.
Place a drip pan under the grates that have no heat.

Prepare smoke pouches. Lay out a large sheet of tin foil. Place 2 cups of the drained, well soaked wood chips and one cup of the dry chips at the center of the foil. Wrap the foil around the wood chips to make a sealed pouch slightly smaller than your bbq burner. Using the tines of a fork, poke holes into both sides of the package through which the smoke will escape. Do this 2 more times to make a total of three smoke pouches.

Place the smoke pouch directly over the flame. Close the lid of the bbq and wait for smoke.

Once smoking, lift the lid and place the pork on the grate over the drip pan on the cool side of the bbq. Close lid and adjust temperature to 220°F/110°C.

Slow smoke for approximately 2.5 hours or until the internal temperature reaches 155-160F (65-71C). Change the smoke pouch when smoke dissipates.

Remove from the grill. Cover with foil and rest for 20 minutes.

While the meat rests, make the sauce. Place red wine, red onion, fresh thyme, ginger, Tabletree Cherry Juice, balsamic vinegar in a sauce pan over medium heat. Bring the sauce to a boil then reduce heat and simmer until slightly thickened (approximately 15 minutes). Remove the sauce from the heat and strain into a new pot. Season the mixture with salt and pepper. Keep the sauce warm until ready to serve. Carve the pork between the bones and serve with warmed cherry sauce.
Order Cherry Juice
Need more juice for your recipes or just want to stock up? Go for it, click below to place an order.