Gluten-Free Individual Cherry Pies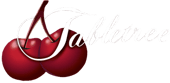 Ingredients:
3/4 cup plus 2 Tbsp tapioca flour
3/4 cup cornstarch
1/4 cup plus 2 Tbsp sweet rice flour
1/4 cup sorghum flour
1/4 tsp kosher salt
1 1/2 tsp guar gum
1 cup cold butter, diced
3 eggs, beaten


Filling:
2 cups sugar
1/4 cup cornstarch
1/3 cup water
2 lb. sweet black cherries, pitted
1 1/4 tsp pure almond extract
1/4 tsp nutmeg


Plus:
Milk for brushing
Sanding sugar for sprinkling
Vanilla ice cream or sweetened, whipped cream for serving
Tabletree Cherry Reduction (drizzle)

Directions:
For the dough: In a stand mixer with the paddle attachment, add all the dry ingredients and mix to combine. Add the butter and mix on the lowest speed until the mixture looks like course bread crumbs. Add the eggs and mix on high until the dough turns in on itself and forms a ball. Turn the dough onto a counter that has been dusted with tapioca flour and knead for three turns. Divide in two, and smooth each section into round disks. Cover with plastic wrap and refrigerate for at least 2 hours or for up to 2 days.

Remove both rounds from the refrigerator 15 minutes before you begin. Dust the work surface again with tapioca flour and roll out one piece of the dough to a 14-inch round. Place a 4 1/2 inch pie pan upside down on the dough. Using a very sharp knife, cut a round 1 inch larger than the pan. Repeat to make a total of 8 rounds, re-rolling the excess dough as needed.

Gently remove a pastry round and fit it into a pie pan. Repeat to line all 8 pans. Repeat to roll out the second piece of dough and cut out 8 more rounds, the size and shape of which will be dictated by the size and shape of your pie pans. Cut out a decorative vent hole of your choice. Place the dough rounds on a baking sheet and refrigerate.

Filling:
In a large, heavy saucepan, combine the sugar and cornstarch; whisk until smooth. Add the water and the pitted cherries. Cook, stirring occasionally over very low heat for 20 minutes, or until the juices begin to thicken. If the mixture thickens too much, add more water by tablespoon fulls. Stir in the almond extract and nutmeg. Remove from the heat and let cool for at least 10 minutes.

Position oven rack to center of the oven and preheat to 425°F. Remove the reserved top crusts from the refrigerator and place beside the prepared pie pans. Fill the pies evenly with the cherry filling.

Brush the edges of the crust with milk. Center a top crust over the pan and join it to the edge of the bottom crust by pressing the two together. Repeat to top each pie. Brush the top crusts with milk and sprinkle with sanding sugar over the tops for a wonderful finish. Place the pies on a baking sheet and bake for 20 minutes or until golden brown. Let cool and serve with ice cream or whipped cream and drizzle with Tabletree Cherry Reduction.
Order Cherry Juice
Need more juice for your recipes or just want to stock up? Go for it, click below to place an order.