Hopkins Cherry Martini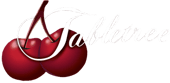 This martini was created by Tabletree's biggest fans!
Ingredients:
1 oz Ketel 1 Vodka
2 oz Tabletree Cherry Juice
0.5 oz Cherry Kirsch
0.5 oz Grand Marnier
Fresh Squeezed Lime
*Club Soda or Sparkling Water


Glass: Martini
Garnish: Cherry
Instructions:
Build all ingredients in an iced shaker. Shake for 30 seconds. Double-strain into Martini glass. Add club soda or sparkling water and a touch of lime juice. Drop in a single cherry; enjoy!
Order Cherry Juice
Need more juice for your recipes or just want to stock up? Go for it, click below to place an order.