Cherry Cubre Libre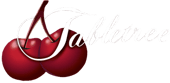 Try this cocktail for a refreshing, fruity taste of the Caribbean. *If desired, also try squeezing two lime wedges into the glass and coat the ice before building ingredients.
Ingredients:
2 oz Rum
2 oz Tabletree Cherry Juice
Coke
Glass: Pint
Garnish: Cherry *or Lime
Instructions:
Build all ingredients into the pint glass. Enjoy!
Order Cherry Juice
Need more juice for your recipes or just want to stock up? Go for it, click below to place an order.