Tabletree Cherry Sauce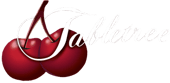 Serve this delicious cherry sauce along with meat dishes such as our Tabletree Pork Loin.
Ingredients:
4 cups of Tabletree Cherry Juice
1 cup chicken stock
1 cup sugar
3 Tbsp cider vinegar
Splash of port
1/2 Tbsp butter
Instructions:
Simmer the Tabletree Cherry Juice in the chicken stock with the sugar and cider and a splash or two of the port.
Add a dab of butter to finish it, giving the sauce a smooth quality.


Order Cherry Juice
Need more juice for your recipes or just want to stock up? Go for it, click below to place an order.