Tabletree Cherry Vinaigrette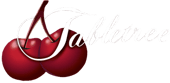 This is a twist on a classic vinaigrette, and this easy, tangy-sweet version is a snap to make! Try with chicken tenders as a dip, or toss into a fruit salad.
Ingredients:
1/3 cup Tabletree Cherry Reduction
1/3 cup cider vinegar
1/4 cup honey
1/4 cup Dijon mustard
1/4 tsp salt
1/3 cup vegetable oil
Freshly ground black pepper
Instructions:
Place the Tabletree Cherry Reduction, vinegar, honey, mustard, and salt in a bowl; season with pepper and whisk to combine. While whisking constantly, slowly add the oil until all of it is incorporated - OR - combine all ingredients in a tight fitting, lidded container and shake vigorously until combined.

If not serving immediately, refrigerate the dressing in a container with a tight fitting lid for up to several weeks. *You can use Tabletree Cherry Juice in place of the reduction sauce for a lighter dressing.
Order Cherry Juice
Need more juice for your recipes or just want to stock up? Go for it, click below to place an order.