Cherry Cordial Martini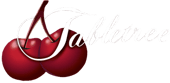 Skip the cheesecake for dessert and go straight for this delicious drink version of a cherry cordial.
Ingredients:
2 oz Cherry Vodka
0.5 oz Tabletree Cherry Juice
1 oz Chocolate Liquor
0.5 oz Luxardo Cherry Liquor
0.5 oz Simple Syrup
3 Dashes Chocolate Bitters
0.25 oz Half and Half
Splash of Chocolate Sauce
Glass: Martini
Garnish: Chocolate Sauce Flower
Instructions:
Build all ingredients in an iced shaker. Shake for 30 seconds. Double-strain into chocolate-swirled martini glass. Use chocolate sauce to make a spiral on top then use a toothpick to pull four points out from the spiral. Enjoy!
Order Cherry Juice
Need more juice for your recipes or just want to stock up? Go for it, click below to place an order.