Flathead Mule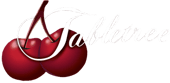 This cocktail is named after the Flathead Valley, which provides Tabletree with all the delicious sweet, black cherries that go into our deliciously crafted, award-winning juice!
Ingredients:
Ice
2 Lime wedges
3 oz Vodka of your choice
1.5 oz Tabletree Cherry Juice
1.5 oz Soda Water

Glass: Copper Mug
Garnish: Lime Wedge
Instructions:
Place two lime wedges in the copper mug and muddle. Fill to the top with ice. Add vodka, Tabletree Cherry Juice, and soda water. Garnish with a lime wedge and enjoy your taste of the Flathead!

*For added sweetness, substitute the soda water for ginger beer
Order Cherry Juice
Need more juice for your recipes or just want to stock up? Go for it, click below to place an order.