Cherry Manhattan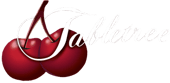 Amplify your classic martini with this recipe that includes our delicious, sweet black cherry juice!
Ingredients:
2 oz Rye Whisky
0.5 oz Antica Vermouth
0.5 oz Luxardo Liqueur
1 Dash Angostura Bitters
1 Dash Cherry Bark Bitters
0.25 oz Tabletree Cherry Juice
Glass: Martini
Garnish: Luxardo Cherry
Instructions:
Stir all ingredients 17 times with ice in a crystal stir glass (or pint glass). Strain into chilled martini glass. Drop Cherry in center and enjoy!
Order Cherry Juice
Need more juice for your recipes or just want to stock up? Go for it, click below to place an order.